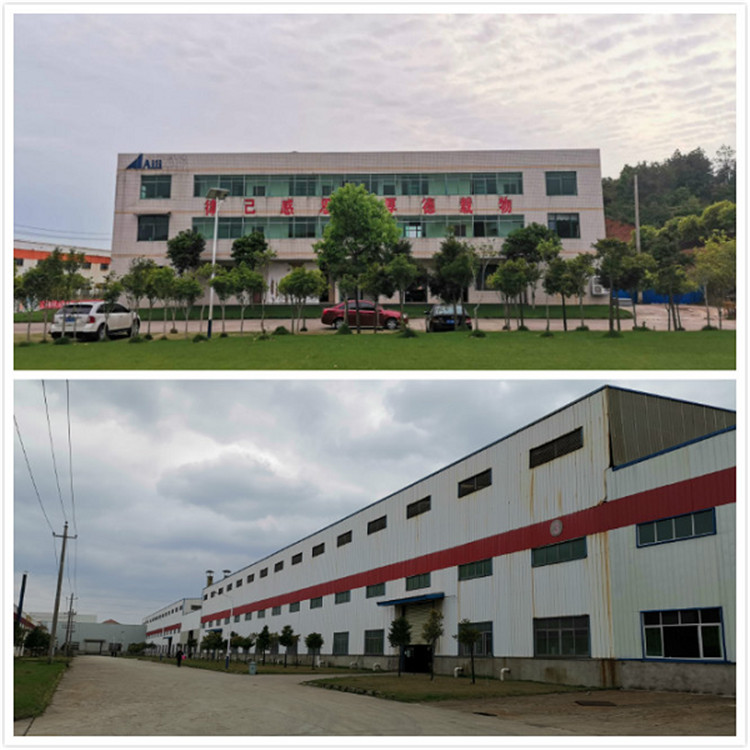 1.企业介绍Company Introduction
2.产品及性能报告 Products & Production Mechanical Property
3.生产工艺及生产设备Products & Production Process
4.检测设备及优势 Equipments and advantages
5.销售区域及成果Marketing

一:公司简介
▷Established in 1980; 成立于1980年
▷Covering an area of 110,000 sqm; 占地面积11万平方米
▷more than 200 staffs; 200多名员工
▷16000tons annual production capacity;
▷年产量1.6万吨/月平均将近1200吨
▷Export to all of the world more than 100 countries;
▷远销全球100多个国家
▷Making OEM for world famous brand;
▷知名品牌的原始设备制造商
▷ Annual Sales Volume more than USD3,000,000
▷年销售额3000万美元(人民币2亿)
▷60% overseas market, 40% domestic market.
▷60%国外市场,40%国内市场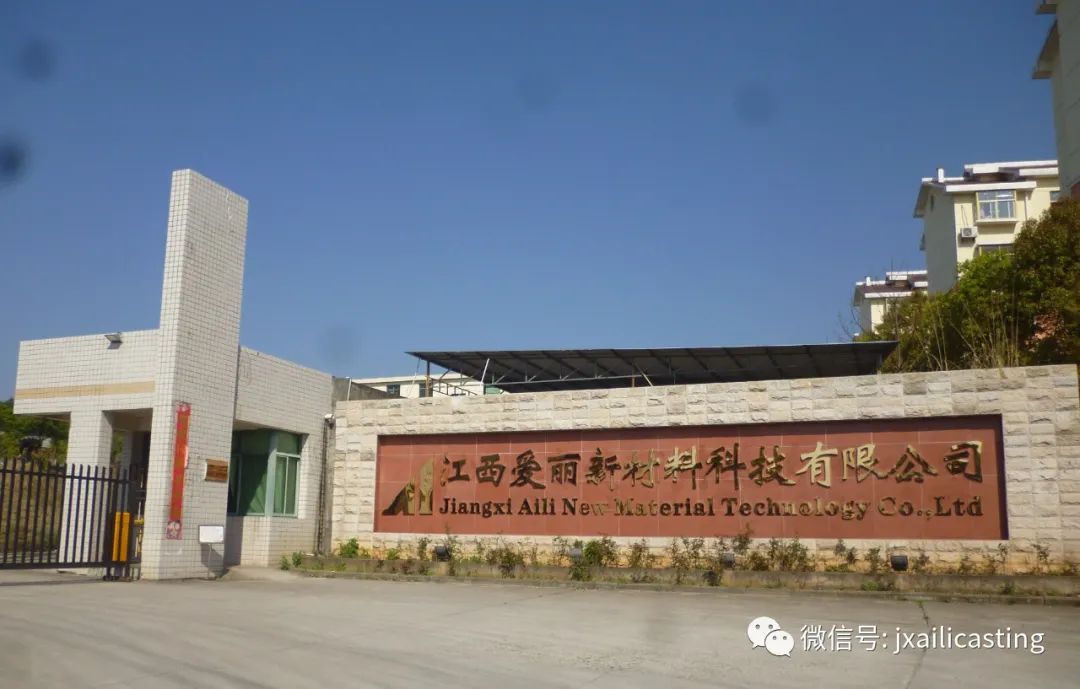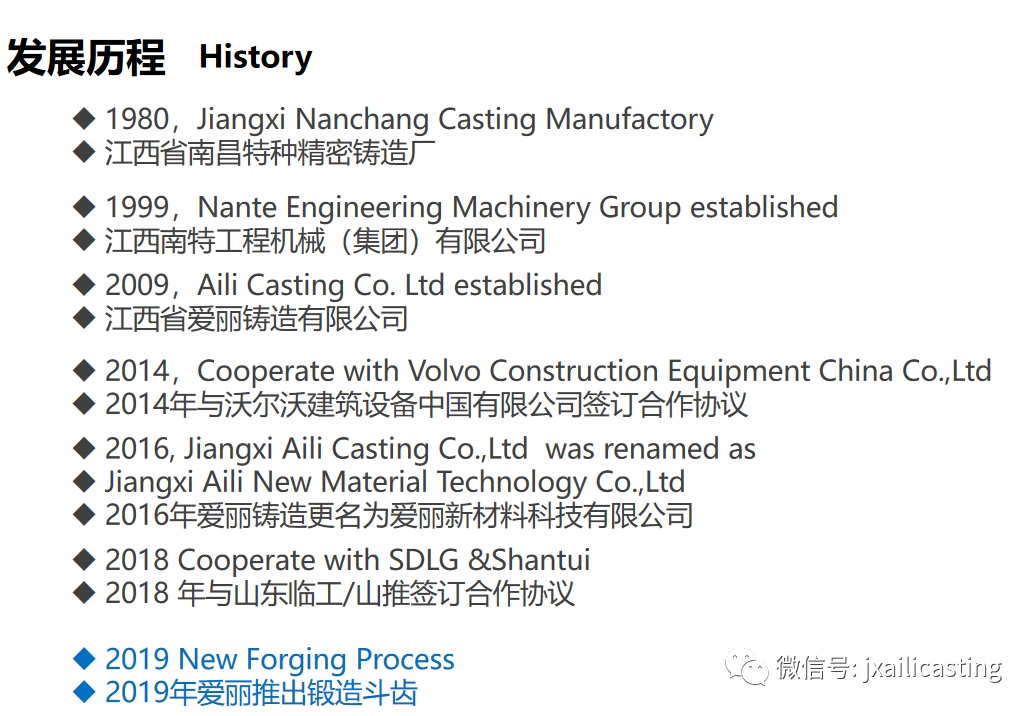 企业文化 Aili culture
▷Aili Spirit  企业精神
▷Credible&Pragmatic; 诚信务实
▷Modesty&make progress; 谦虚上进
▷Self-restraint&thanksgiving; 律己感恩
▷Self-discipline and social commitment. 厚德载物
Aili Vision 愿景
▷To be the first class of casting &forging factory all over the world, to ▷be the first brand of bucket teeth in China.
▷成为世界一流的铸锻公司,成为中国斗齿第一品牌!
Aili Core Value    企业核心价值: 
▷ Offer extra value product to customers; 为客户提供物超所值的产品;
▷Offer opportunity to employees; 为员工搭建学习成长的平台;
▷Offer win-win to partners; 为伙伴营造共赢的局面;
▷Offer contributions to the society; 为社会做出最大的贡献。
Certification ISO 9001:2015/ ISO 14001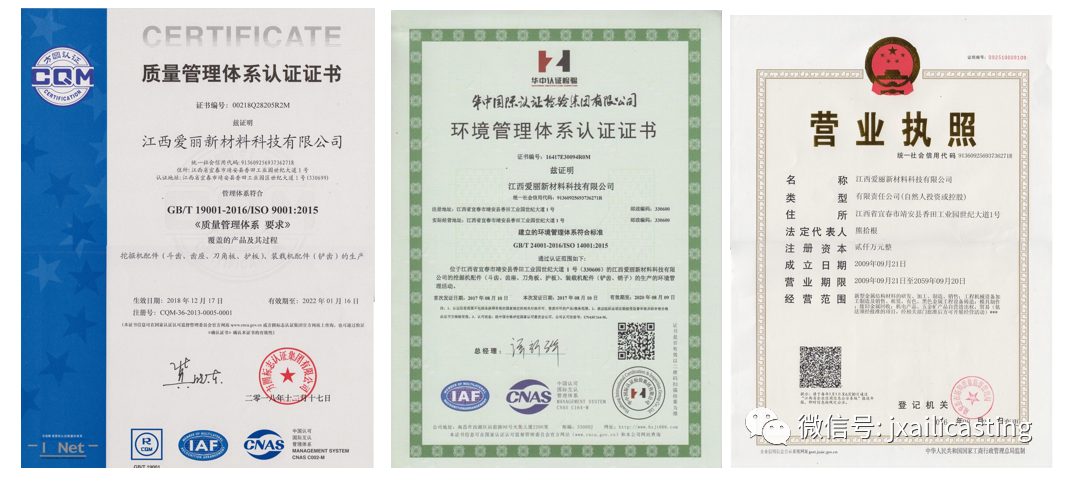 二:产品及性能报告 
▷Products & Production Mechanical Property
产品种类,铸锻产品实验室检测报告
主要产品 Main Products
▷Aili can supply  the bucket, bucket spare parts and ground engaging tools solution
爱丽能够提供整个挖斗及挖斗上所有配件的生产研发设计,能够提供解决地面作业工具的方案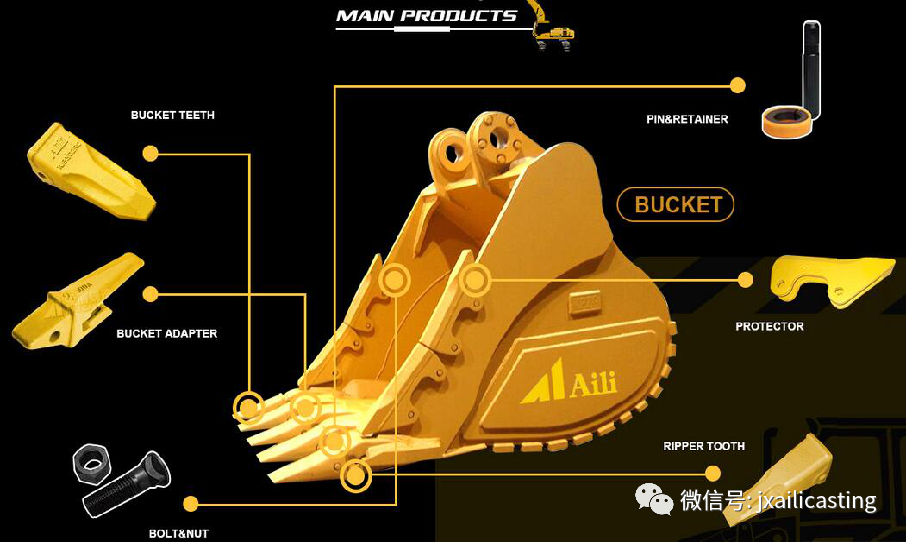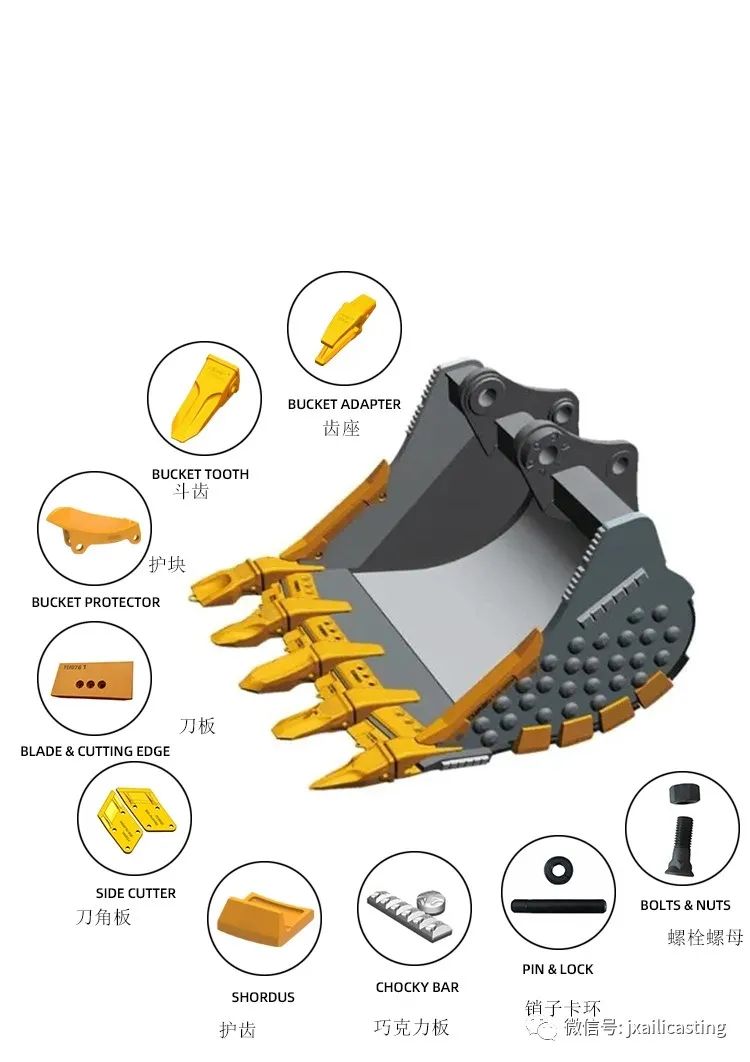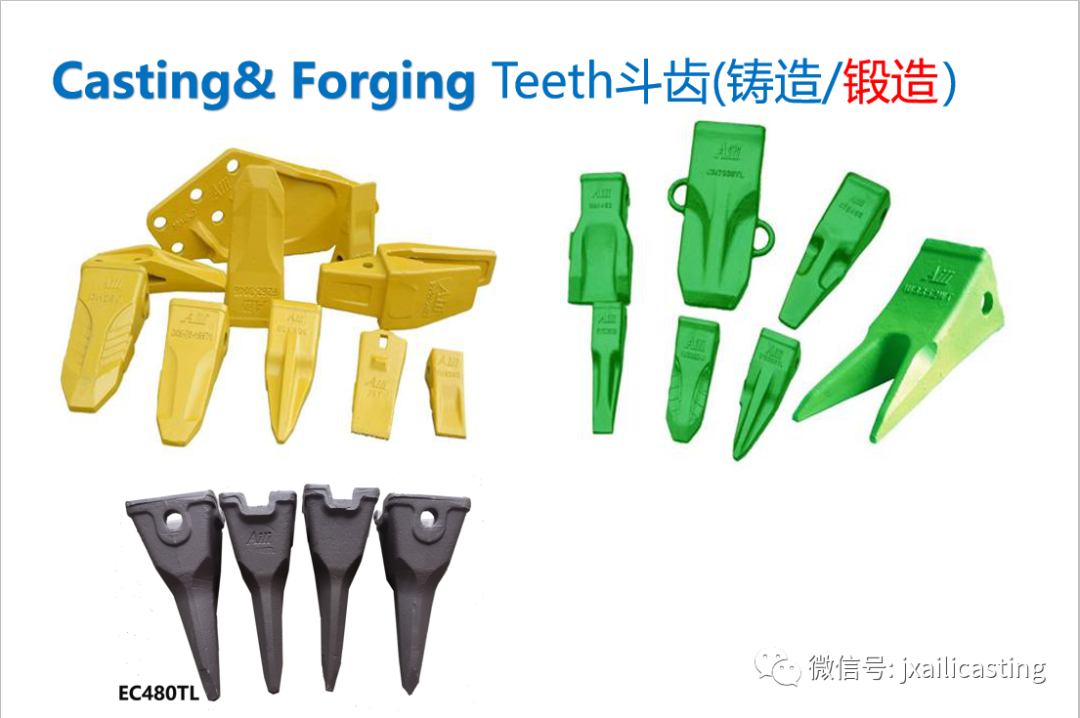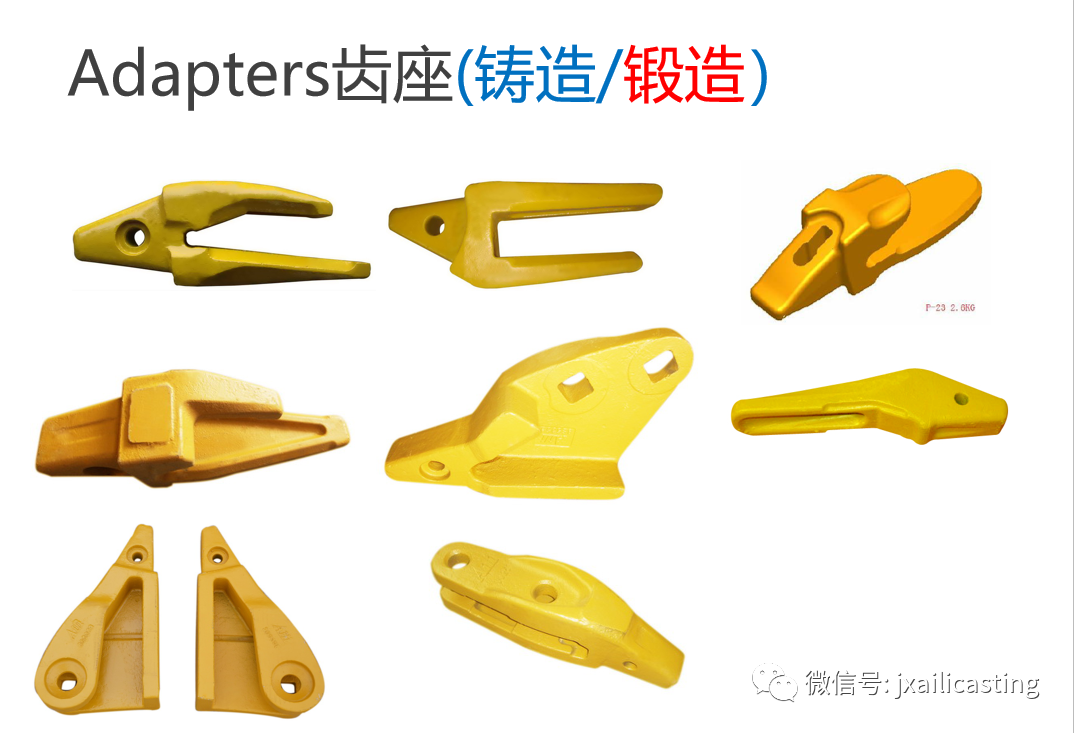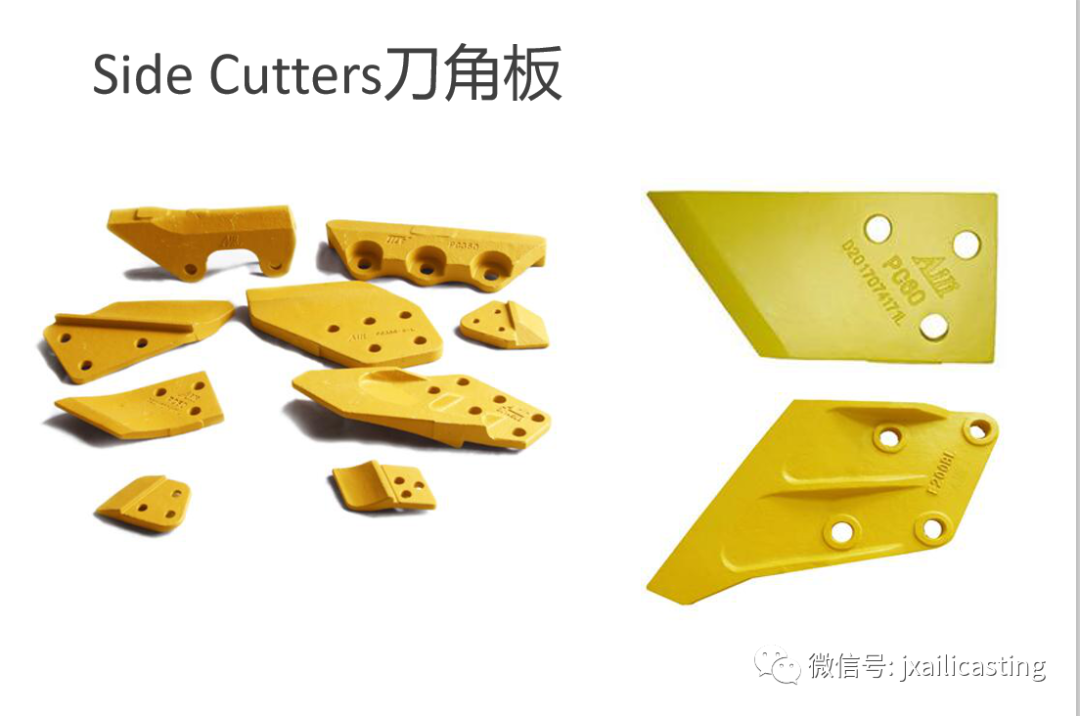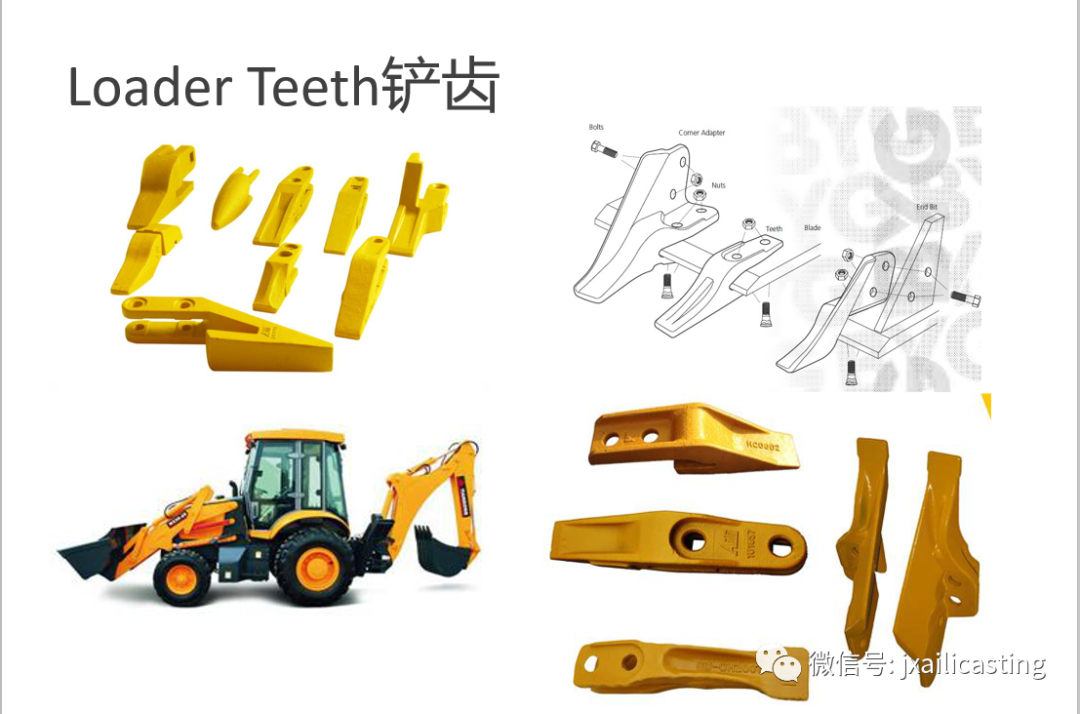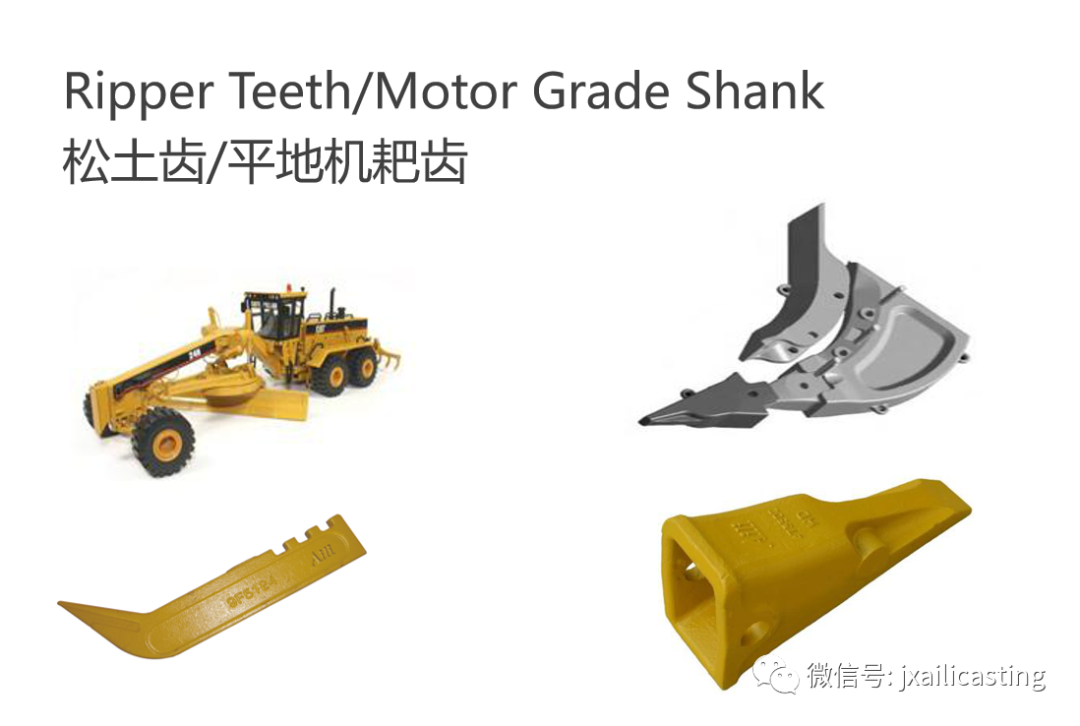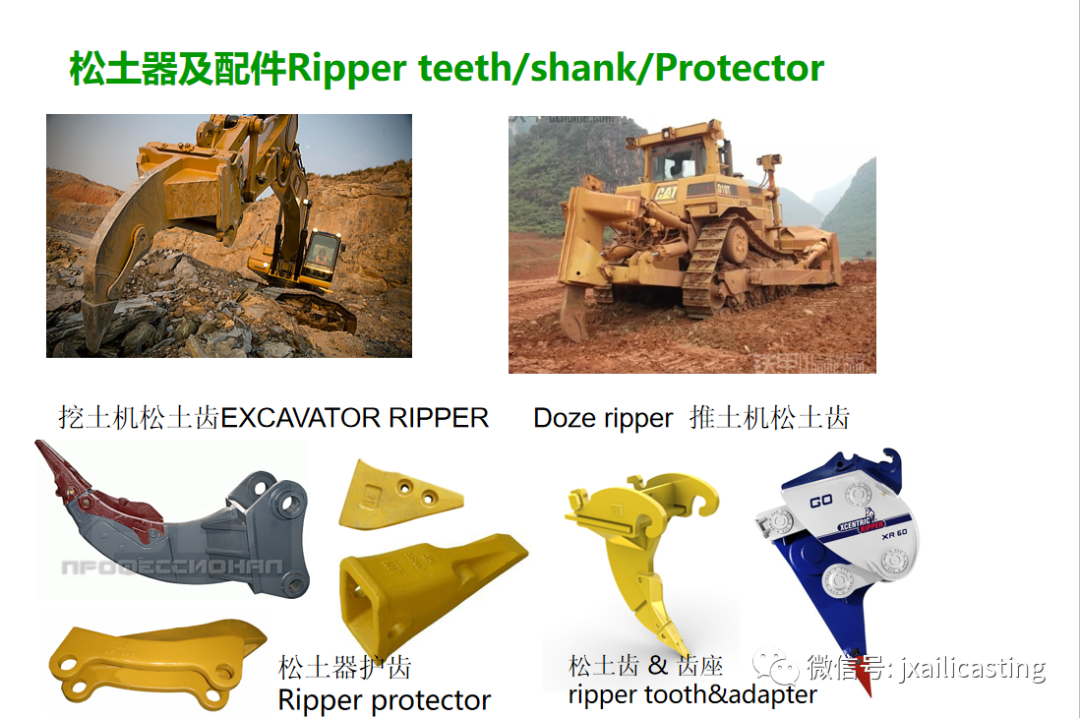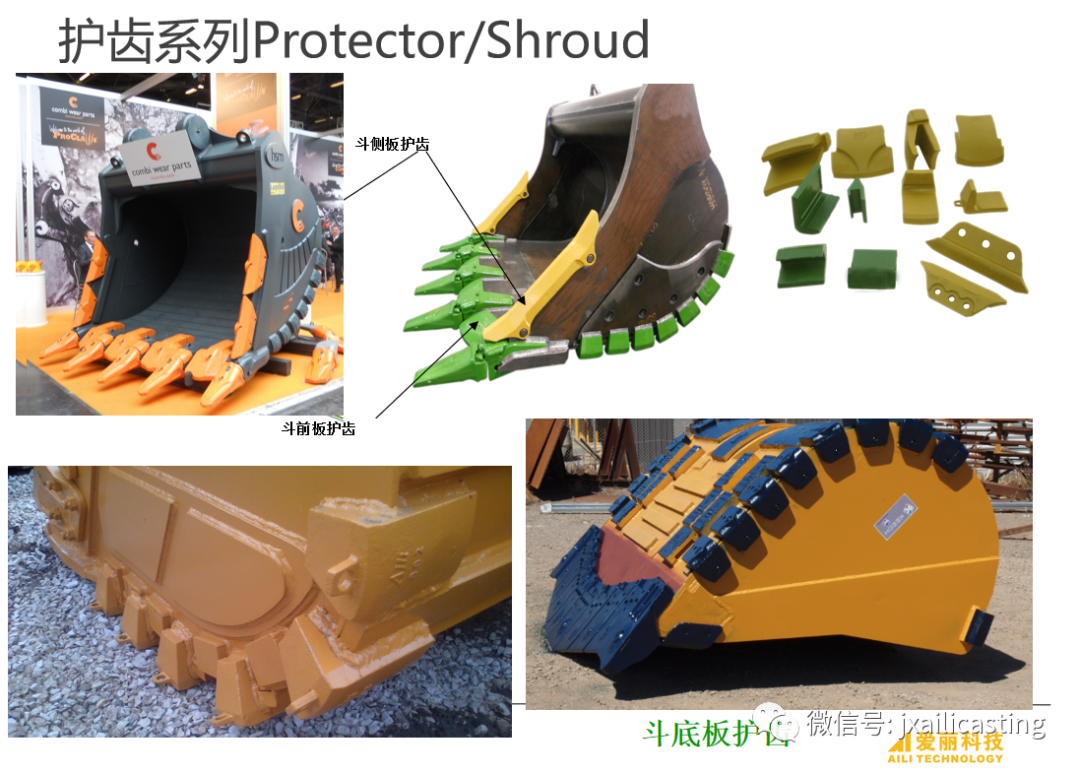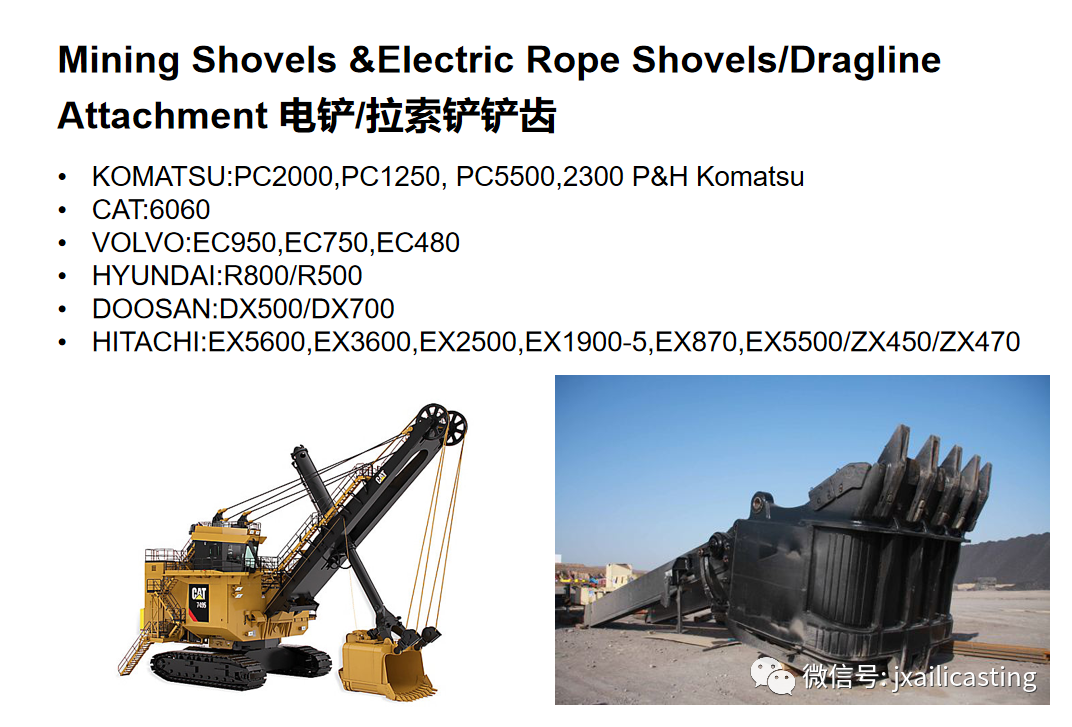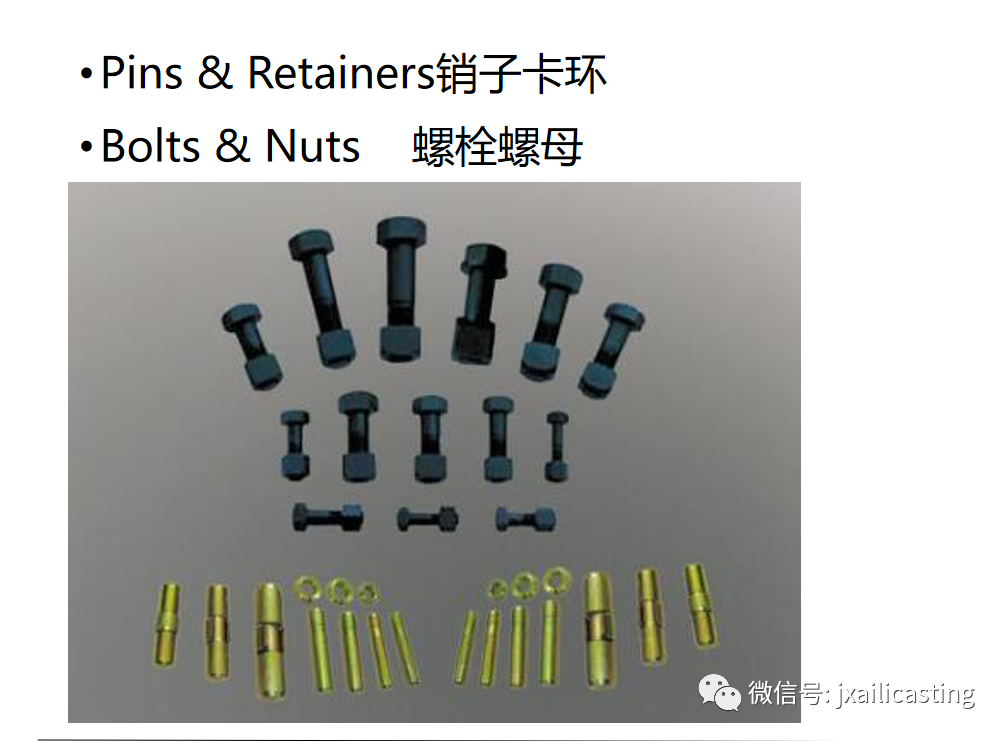 锻造产品实验检测报告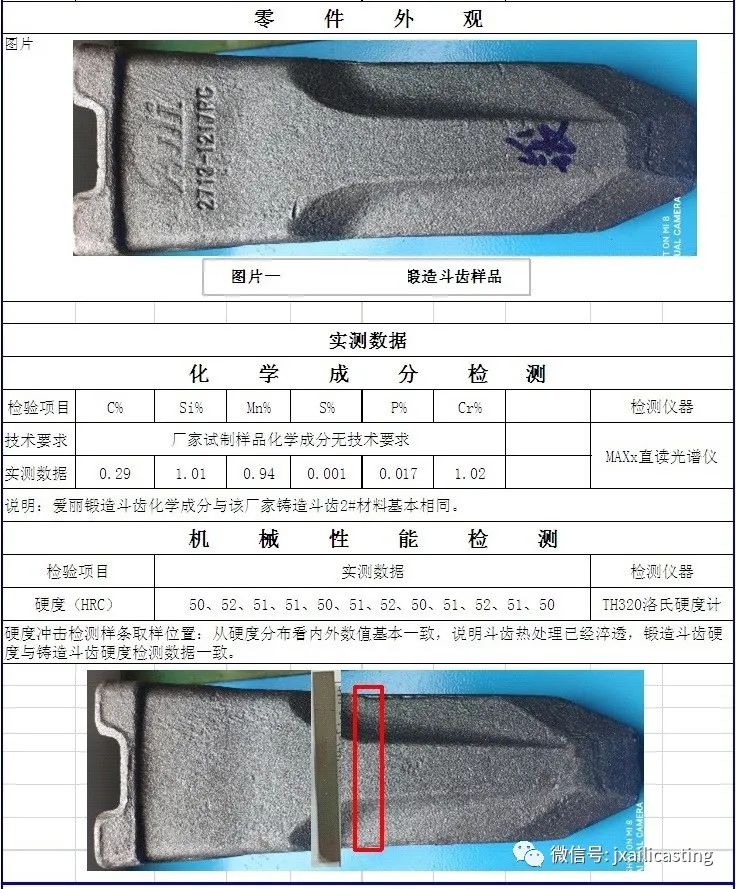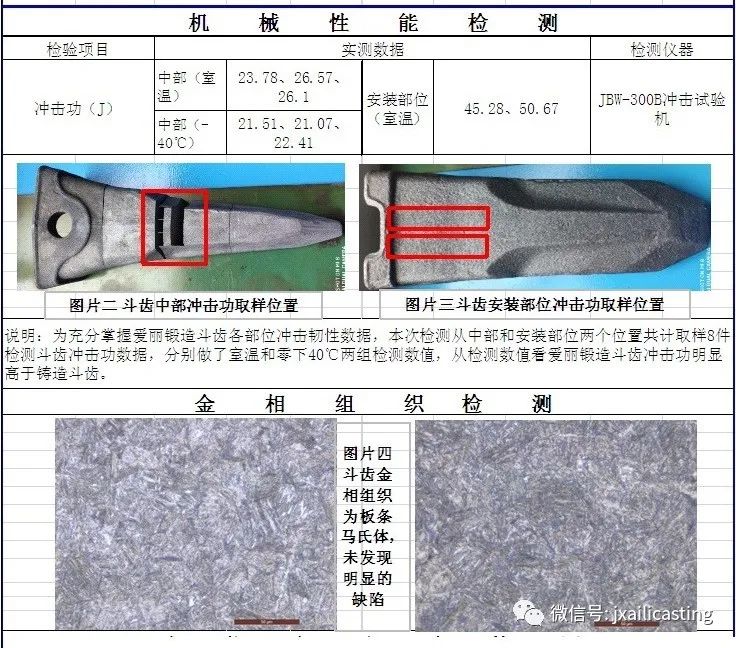 铸造产品SGS性能检测报告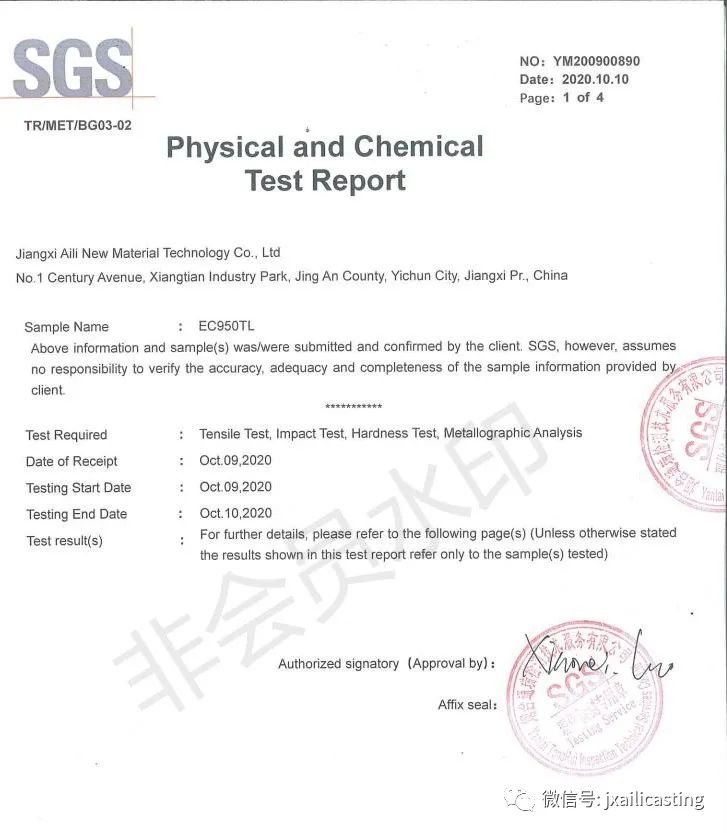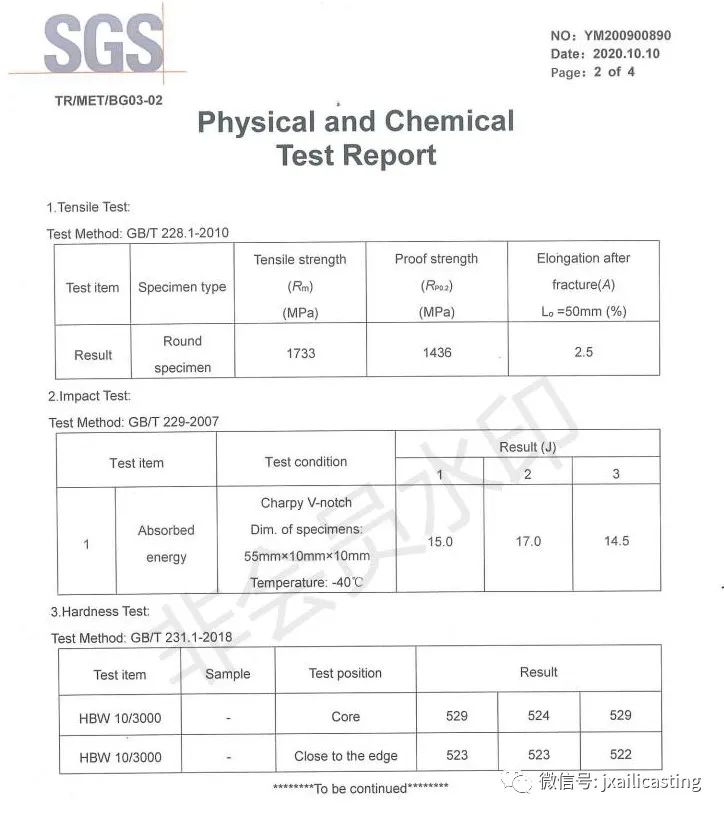 铸造产品SGS性能检测报告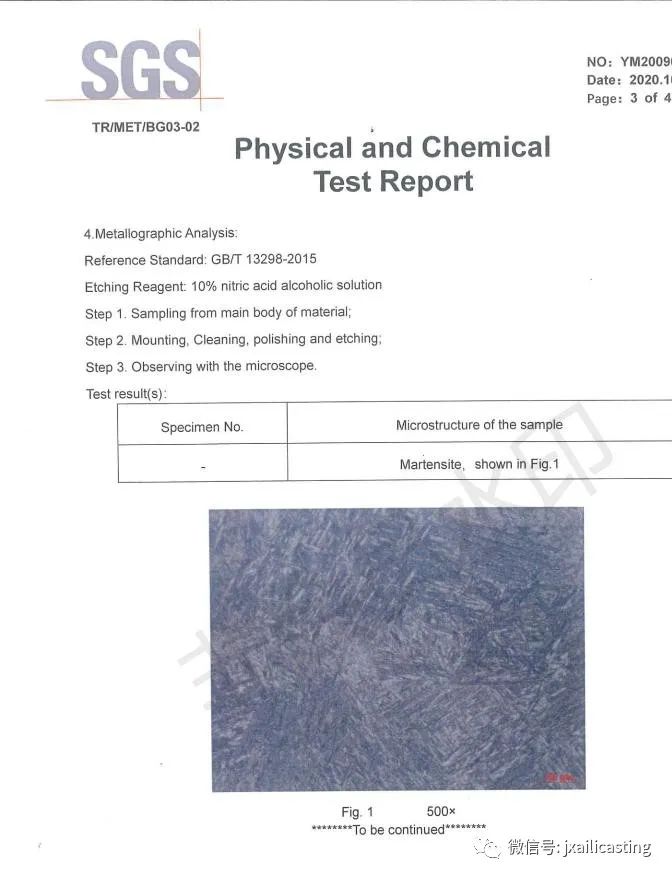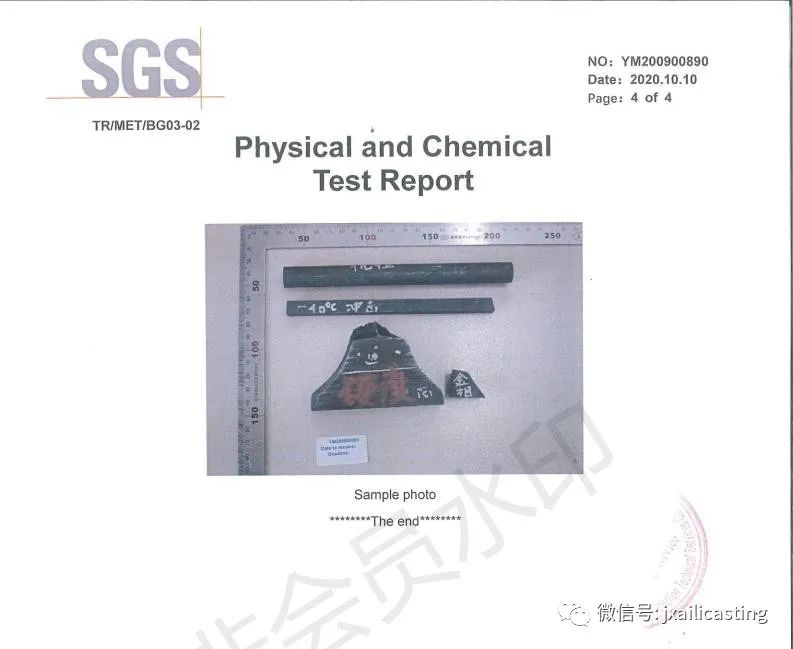 铸造产品韩国实验室性能检测报告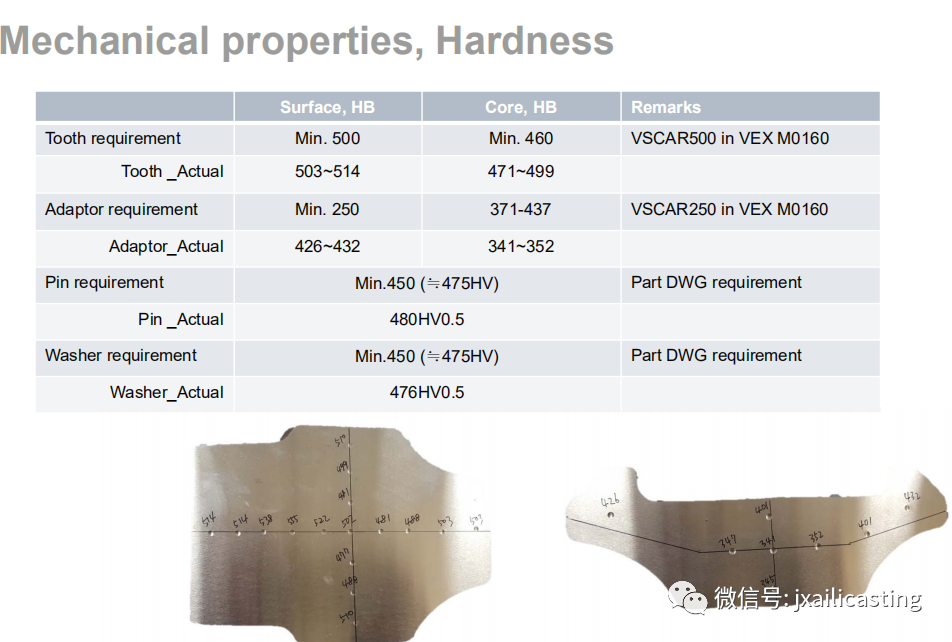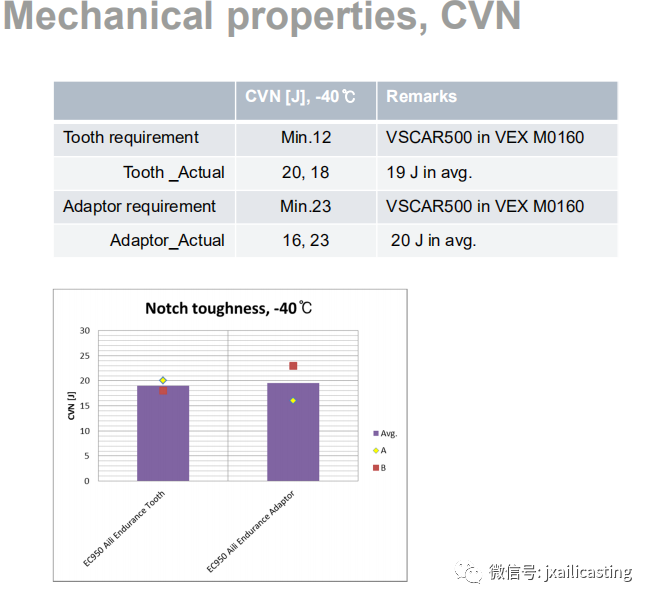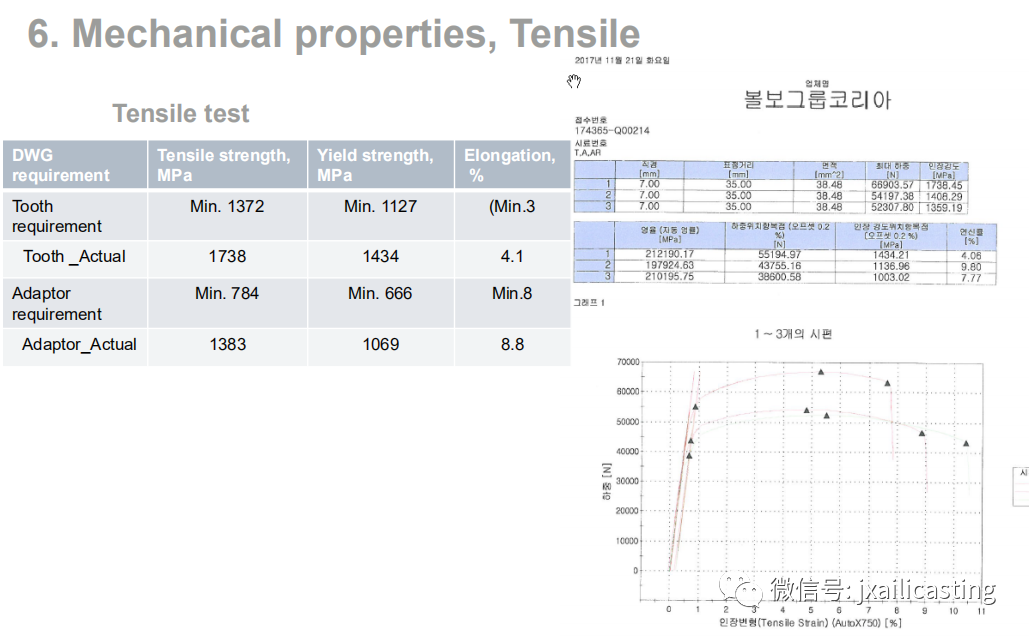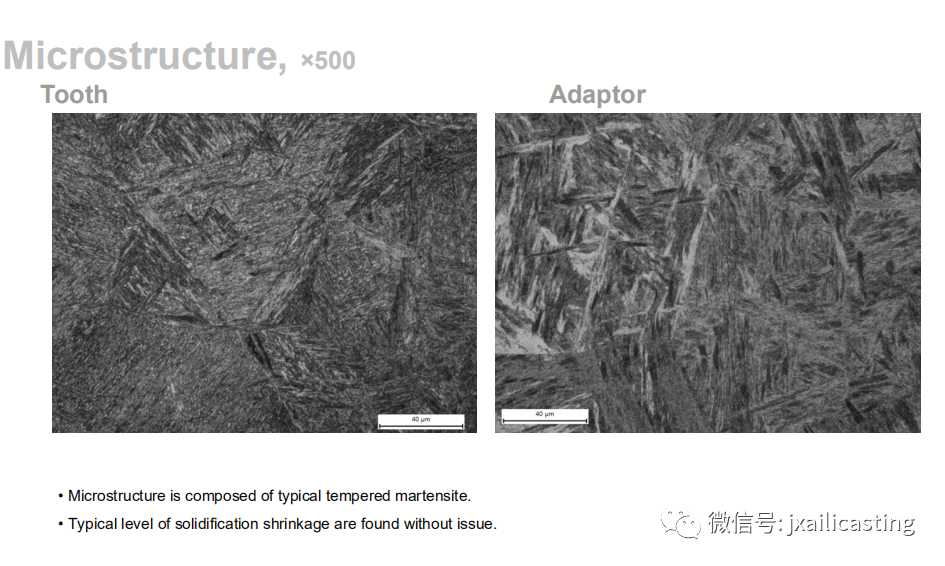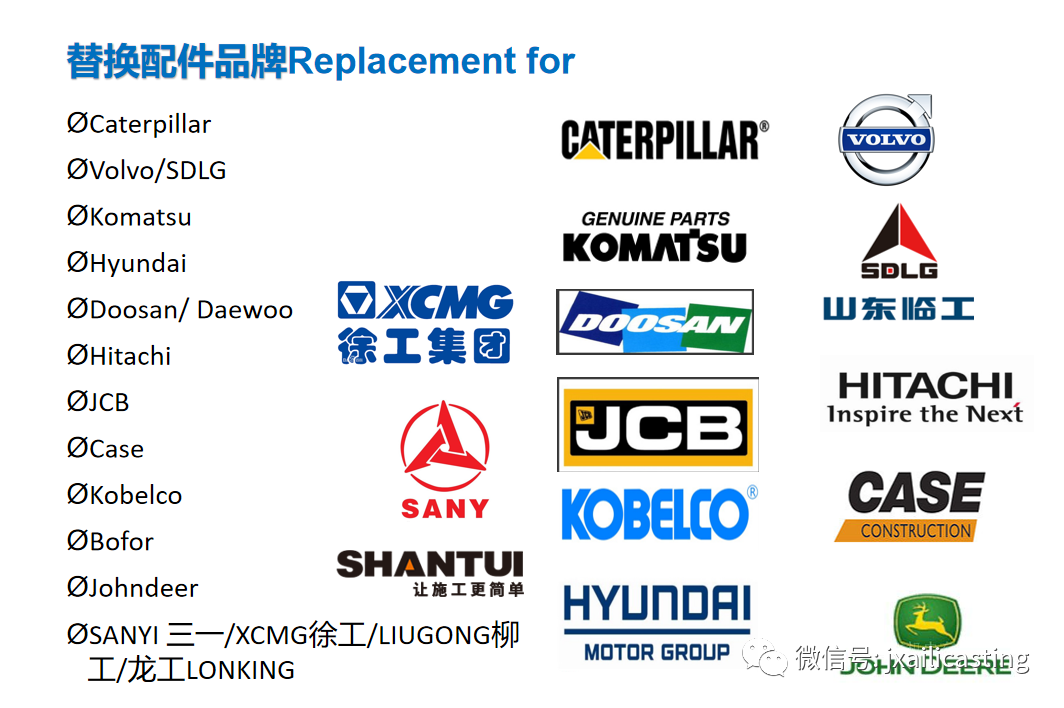 Warehouse仓库
▷More than 3,200㎡
面积超过3200平方米
▷More than 3000 items avaliable
超过3000个品种
▷2000 tons stock
约2000吨的库存
▷MDF Wooden Case
免熏蒸木箱
▷Case inside with a water-proof plastic
内置防水膜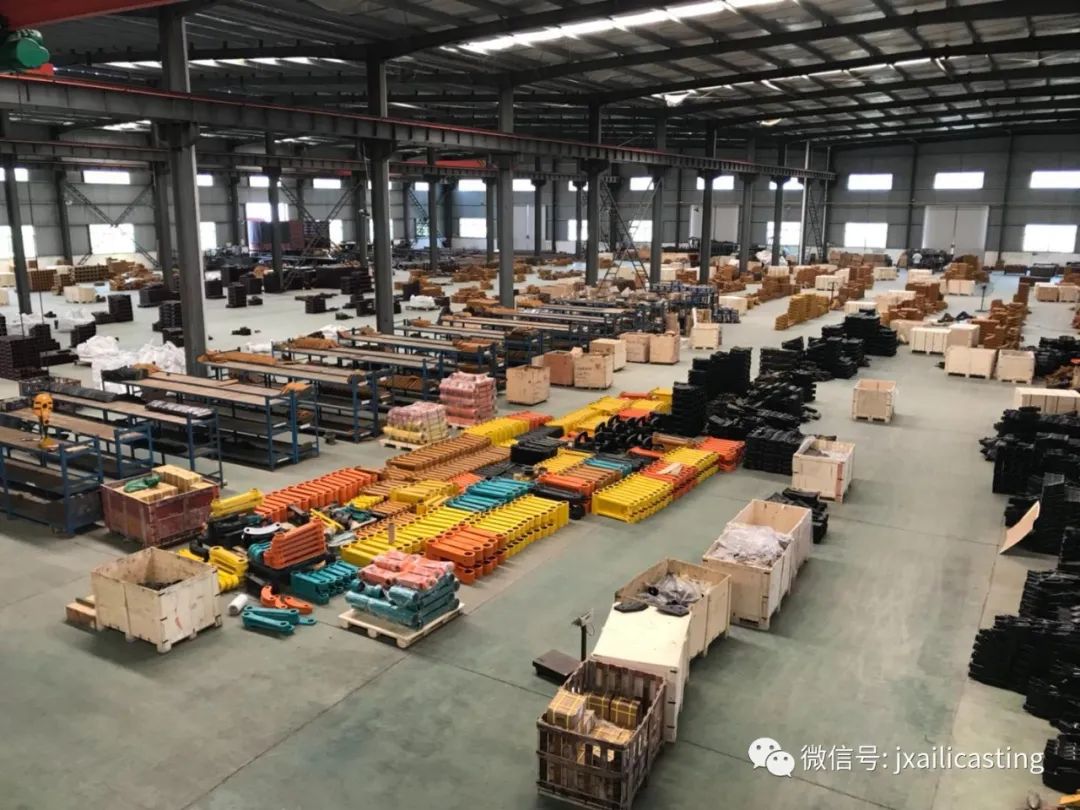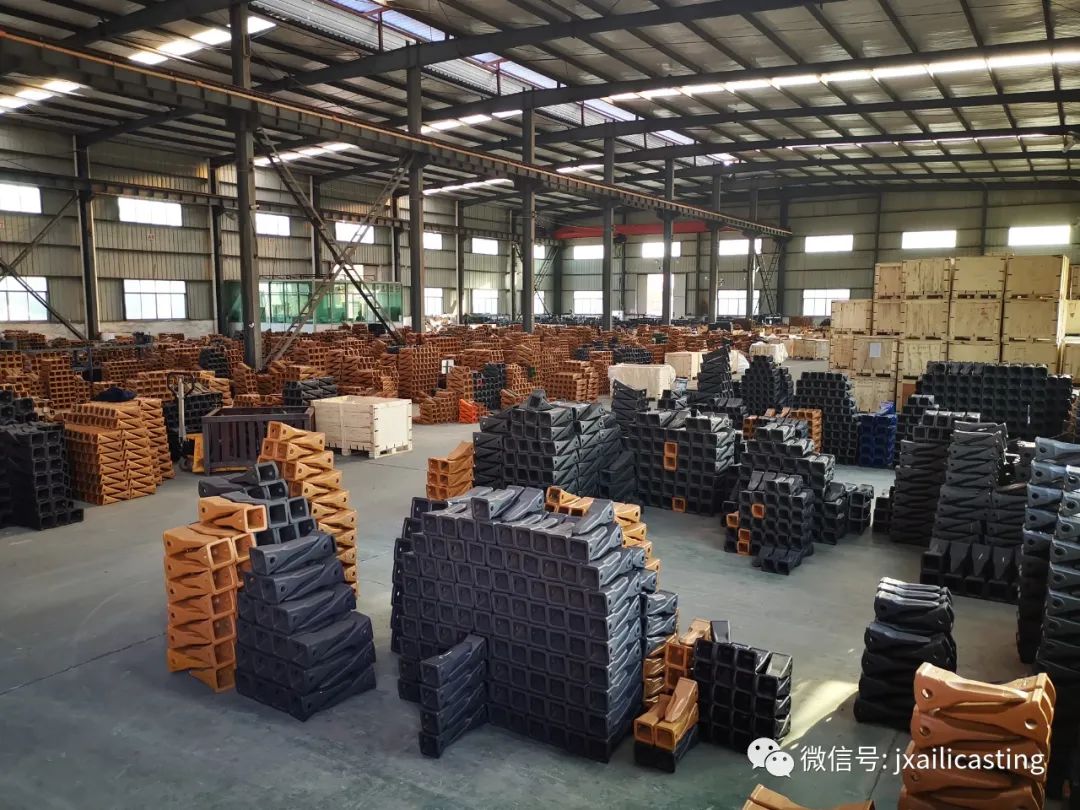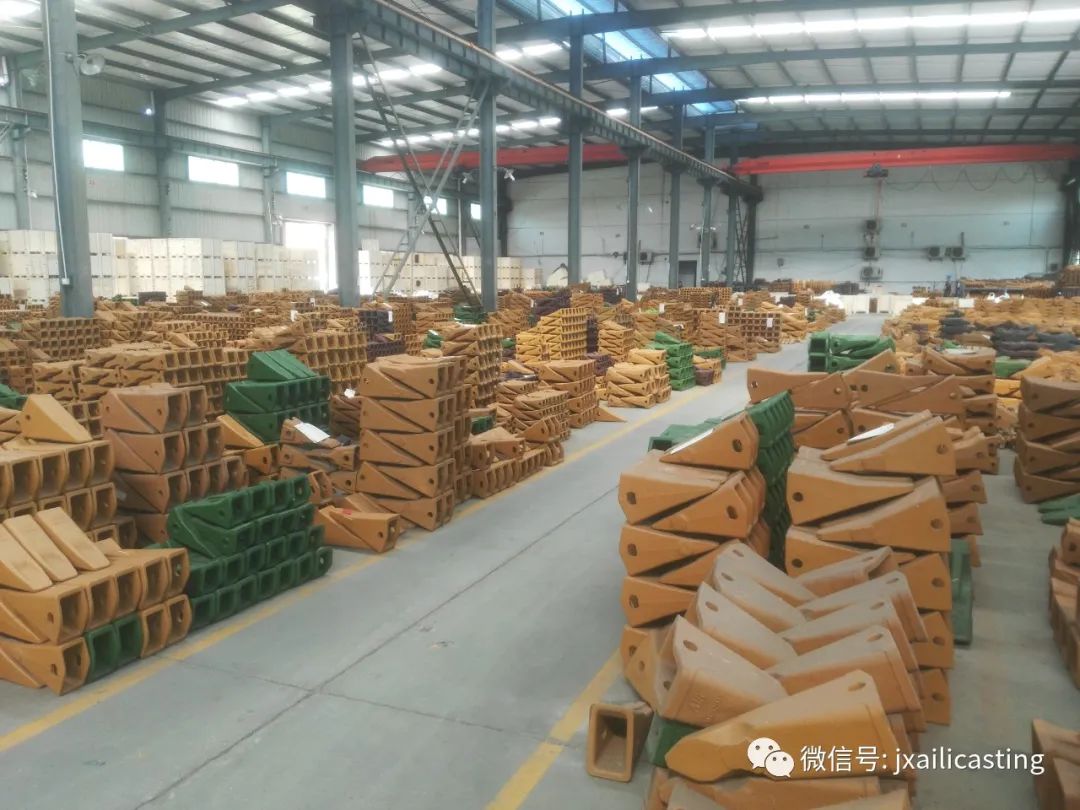 三:生产工艺及生产设备
Products & Production Process
铸造工艺,锻造工艺,生产设备
1、硅溶胶Ceramics Casting
①腊模制作(wax-making)
②结壳(mould-assembly)
③脱蜡(wax-lost)
④烘焙(mould-baking)
⑤浇注(casting)
⑥清沙(sand-cleaning)
⑦切割抛丸(cutting&polishing)
⑧热处理(heat-treatment)
⑨打磨/抛丸(blasting&polishing)
⑩油漆(painting)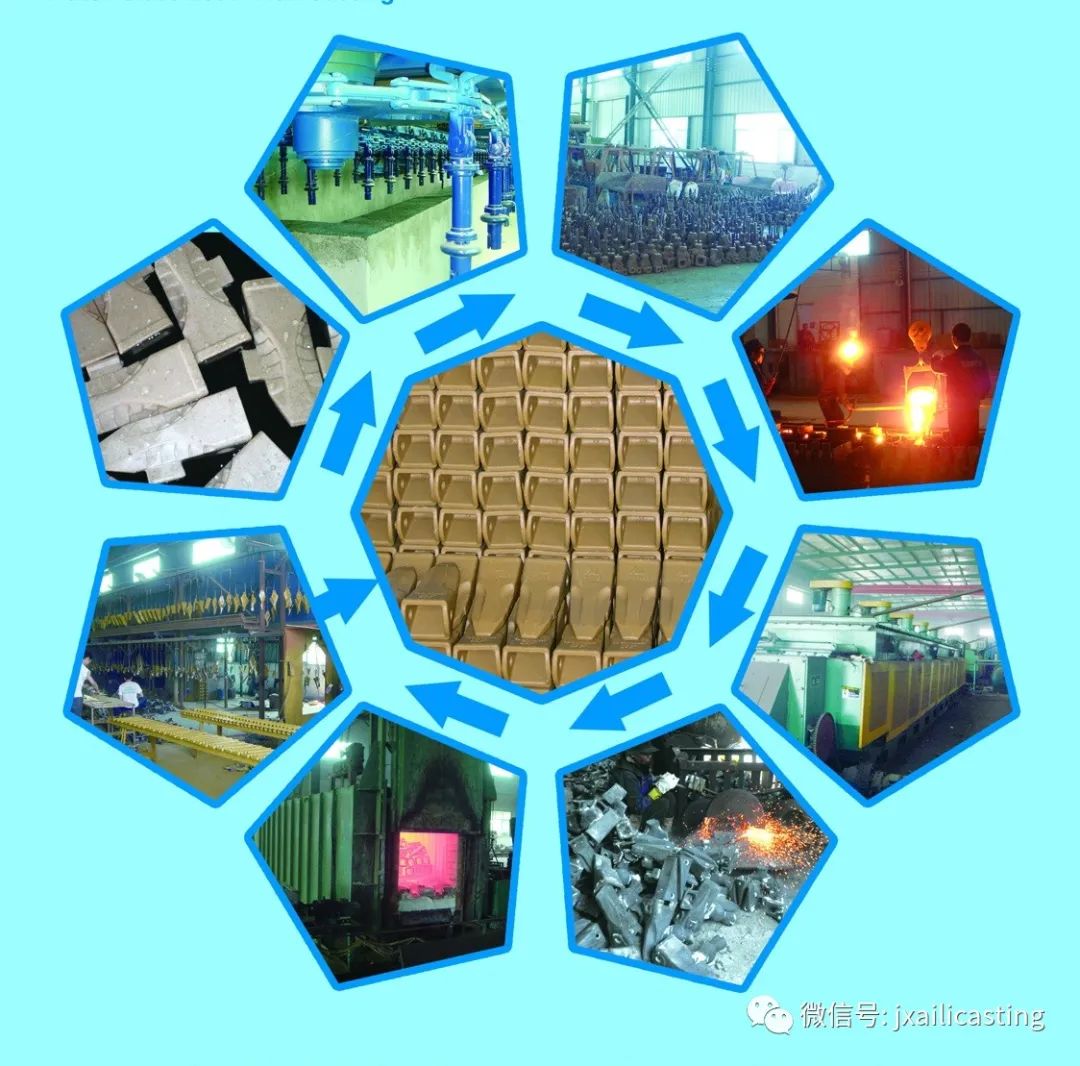 2、全自动静压生产线 (潮模砂)Static pressure modeling line SPML
◈自动静压线总投入1多亿 Static pressure modeling line total investment is 100 million
◈优势:全自动化生产,每个环节机器自控操作,产品质量稳定,生产效率高Advantages: fully automated production, machine-controlled at each step. High production efficiency with stable quality

碾砂 →   造型 →   放芯 →   合箱 →   熔炼浇注→ 冷却 → 清砂处理-后工段
Sanding→   Molding →   Put Mud Core → Mould Assembling →   Pouring &Casting→Cooling → Clean Sand

3、锻造工艺Forging
产品优势:
▶.产品内部结构致密度更高,完全没有产品内部气孔和疏松的问题。
▶. 产品冲击值更高,完全超过铸造产品的冲击。,硬度性能更加稳定。
▶.产品表面完全无暇,没有任何气孔和瑕疵。
▶.生产效率提高,保障交货期,及时满足客户需求。
▶.机械自动化 程度高,减少人为因素对产品质量的影响。
▶.绿色环保生产,完全没有任何污染,无环保要求及压力。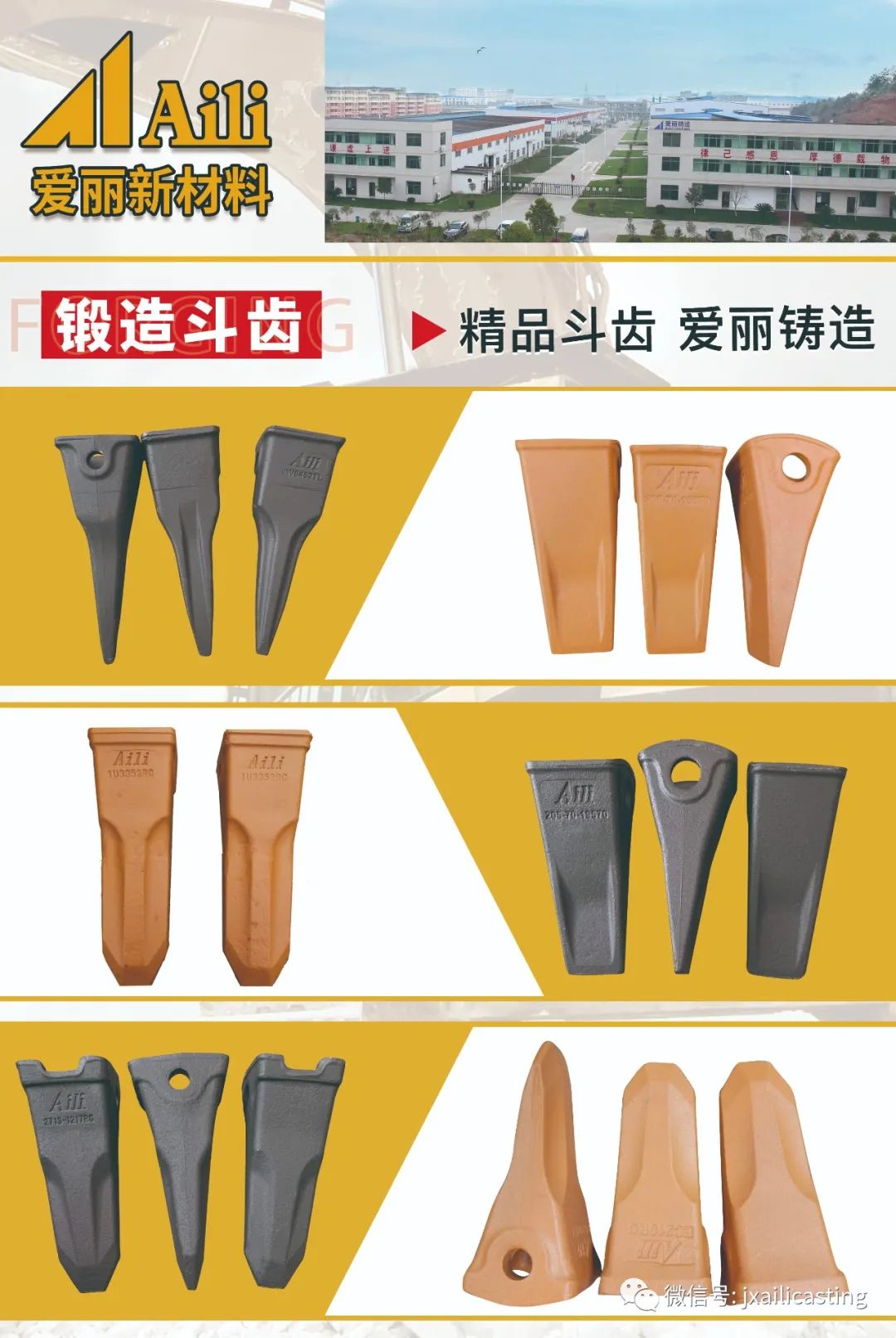 Advantages 
▶.Product interior structure with higher density ,not have inner gas holes
▶.Higher Impact Toughness,More stable  Hardness
▶.The product surface is perfect, completely free of pores and defects, close to the surface of the machined product
▶.Mechanical automation produce and reduce the quality problems
▶.caused by human factors  and  labour cost.
Green production, no pollution, no environmental requirements .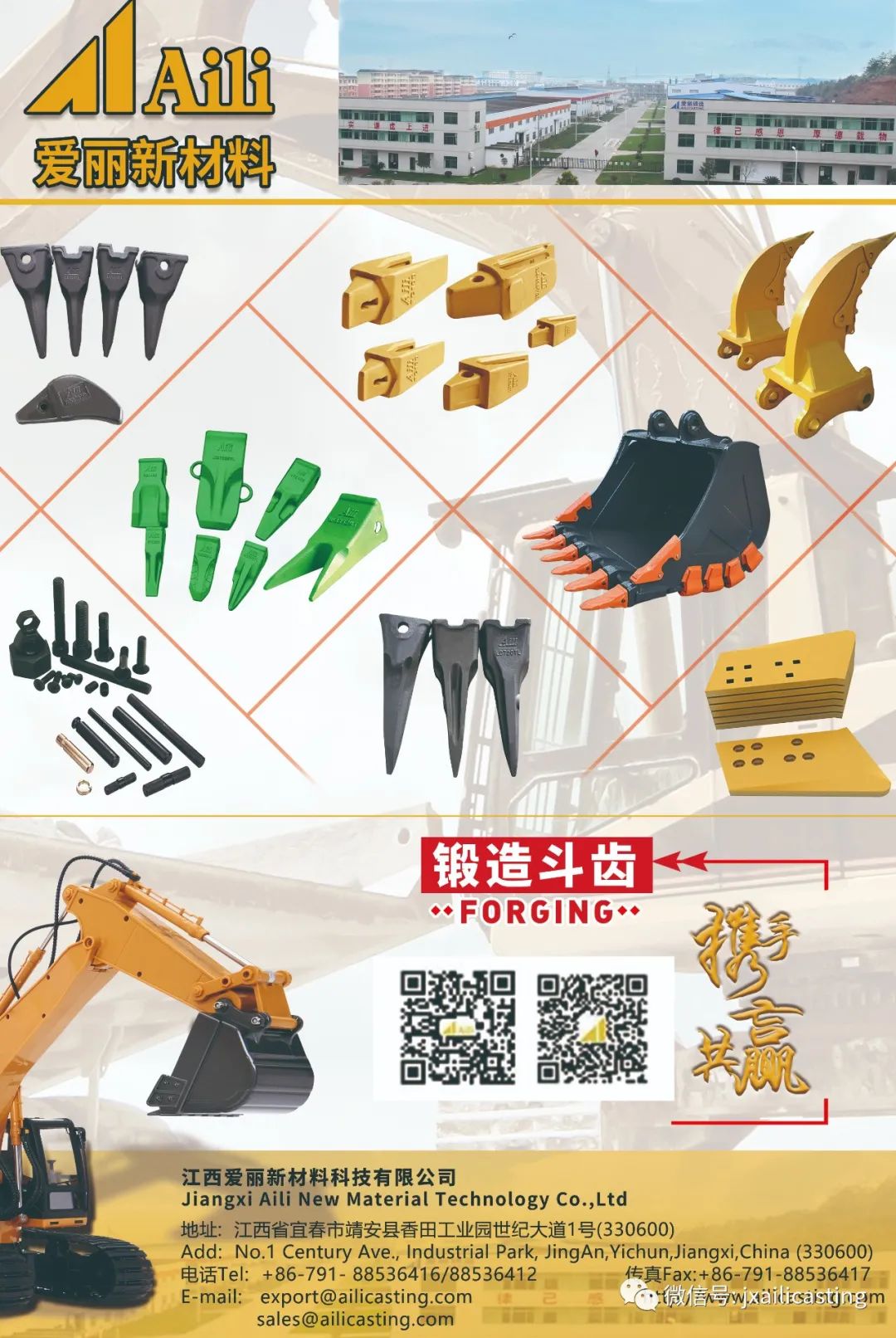 生产设备
1.热处理设备
▶全自动天然气热处理炉1台 Automatic natural gas heat treatment furnace 1set
▶网带式淬火炉 2台Mesh belt quenching furnace 2 sets
▶井式炉 2台 Well Vauum Furnace 2 sets
▶台车炉3台 Pallet car furnace 3 sets
▶回火炉 8台 tempering furnace 8 sets

2.熔炼和浇铸设备
▶5套中频电炉: 3吨1套,2吨 1套,850KG 3套
▶5 sets Intermediate frequency electric furnace,1 ton 1 set, 2 tons 1 set, 850KG 3sets
▶提高生产效率Increase productivity
▶每炉可炼2TON钢水Each furnace can be refined 2 tons molten steel
▶与自动化造型线的生产节奏匹配

3.抛丸设备
▶滚筒抛丸机 1套,履带抛丸机6台,吊钩抛丸机1台
Blasting Machine
▶自动上料下料抛丸机,减轻劳动强度,容量大,提高生产效率
Automatic loading and unloading shot blasting machine,
Reduce labor intensity, large capacity, improve production efficiency

4.自动喷塑线NEW  SPRAYING LINE 
▶More environmentally friendly, No Extra paintball 更环保
▶More Safe, No Fire hazard 更安全
▶Improve work efficiency 效率更高
▶Not affected by rainy Seasons 不受雨季影响

5.加工中心设备
▴数控雕铣机 8台
▴CNC engraving & milling machine
▴加工中心(DOOSAN)  2台
▴Machining Center

四:检测设备及优势 Equipments and advantages
检测设备  企业优势 
检测设备Inspection Machinery
▴线切割机6台 24小时工作
▴6 sets Wire cutting machine ,24hours working
▴提升产品机械性能检验速度
▴Improve the speed of mechanical performance test
▴每炉产品抽检2个样品切割检测,确保及时反馈产品质量及控制

检测设备Inspection Machinery
▴冲击试验机
Impact Testing Instrument
洛氏硬度检测机
Rockwell Hardness Tester
▴布氏硬度机
Brinell hardness tester
每一炉产品抽样检查冲击和硬度,确保每炉产品的机械达标
洛氏硬度和布氏硬度同时检测,能提供给客户不同的参考硬度需求
Purpose: Both machines are tested simultaneously, which can provide different
hardness reference for customers. Make sure the quality meet with the
requirements and reach to the standard.

检测设备Inspection Machinery

▴拉力机 Tensile testing machine
▴金相分析仪metalloscope
▴磁粉探伤仪 Magnetic defect detector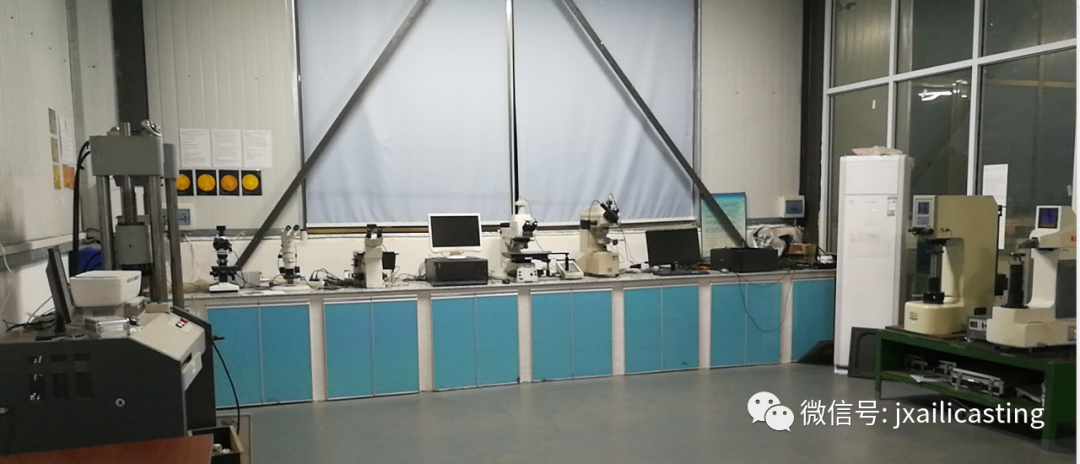 检测设备Inspection Machinery
光谱分析仪
Optical Spectrum Analyzers
检测化学成分,对每一炉浇铸前检测符合要求的化学成分,确保产品的化学成分是合理及稳定的
Test chemical composition to ensure it is reasonable and stable for each furnace products, which is a prerequisite for ensuring product quality
对检测样件保留6个月以上,追溯产品品质

企业优势Advantages
国内唯一可以独立自主研发化学成分材料的企业
The only enterprise in China that can independently R&D materials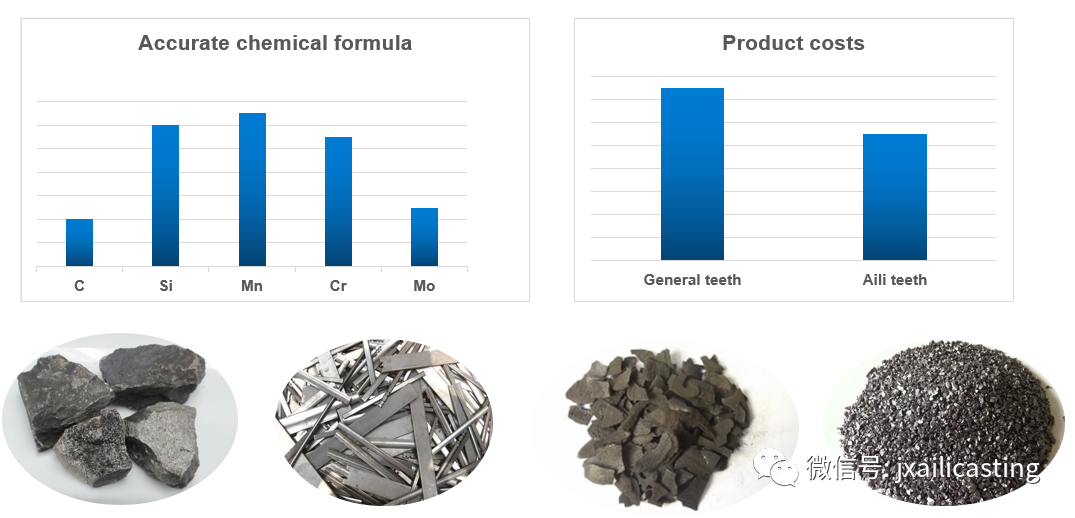 材料选择及机械性能 Materials&Mechanical Performance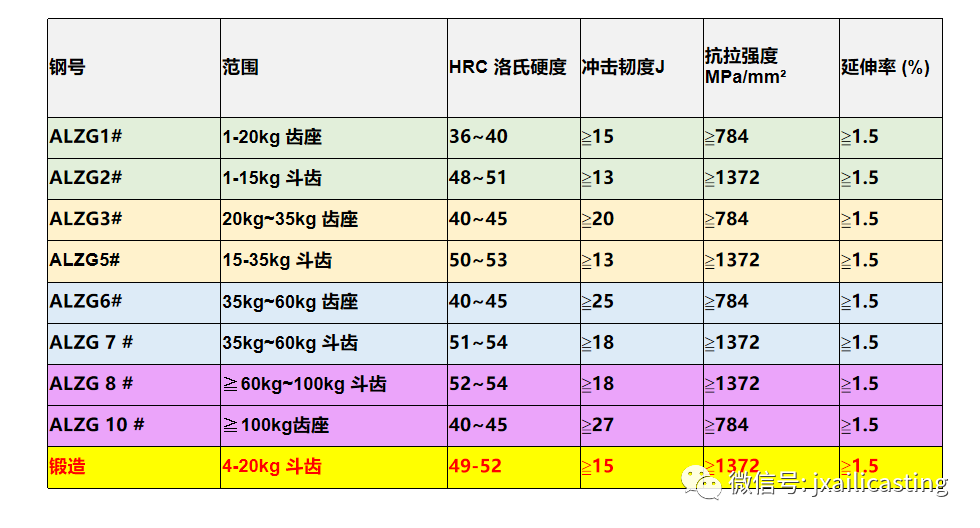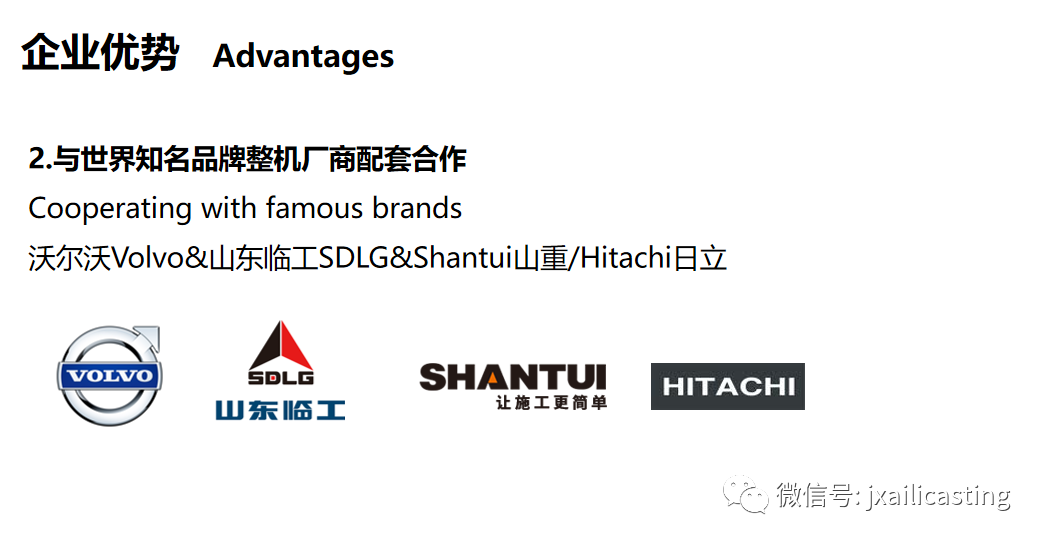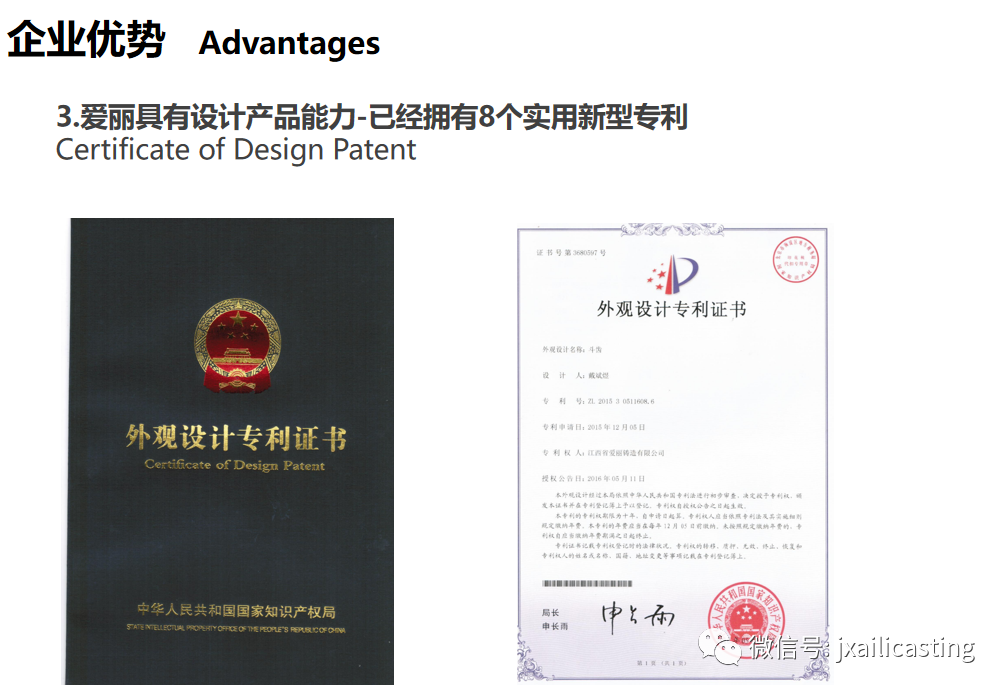 企业优势Advantages
4.Scientific and complete quality control and inspection system
自有完善的质量控制及检测设备确保每炉产品性能达标
5.Many sets of advanced production equipments to guarantee the product quality
多种先进热处理生产设备确保质量稳定。
6.全自动化生产线,极大提高产量及生产效率,同时确保质量更为稳定。
The first automated production line, improving the capacity and production efficiency , at the same time make the quality more stable
7.Complete production process ensure the maximum efficiency of different items.
齐全的生产工艺,铸造和锻造满足不同产品要求,确保不同产品最大优化生产效率。
五销售市场Marketing全球市场  国外市场 国内市场  销售额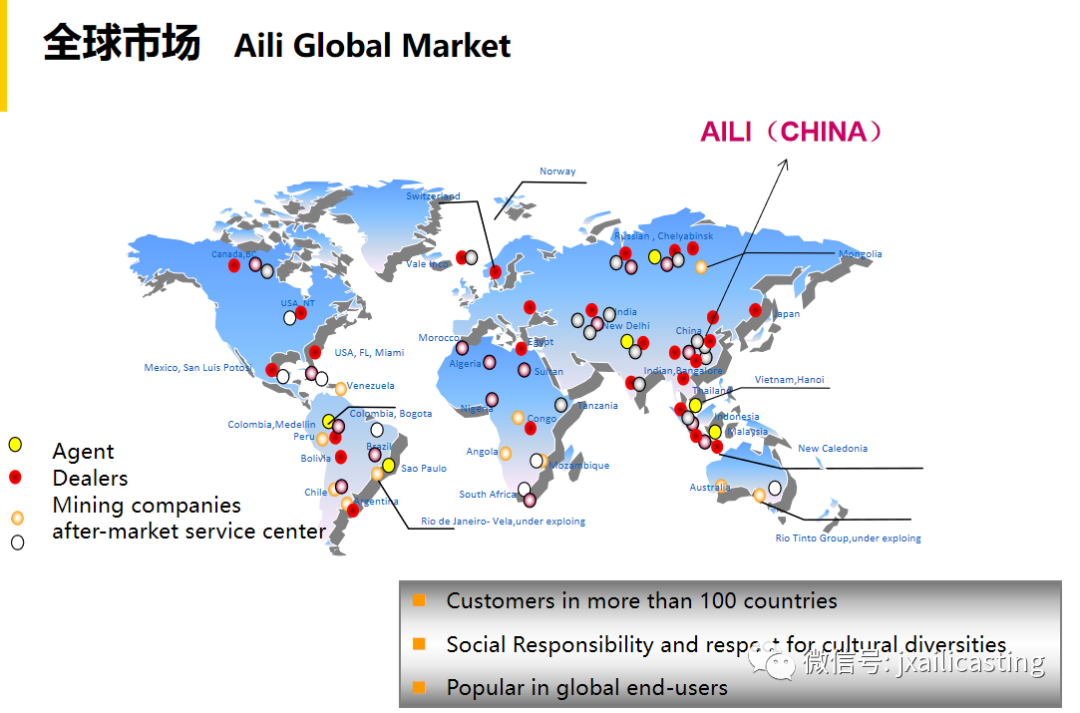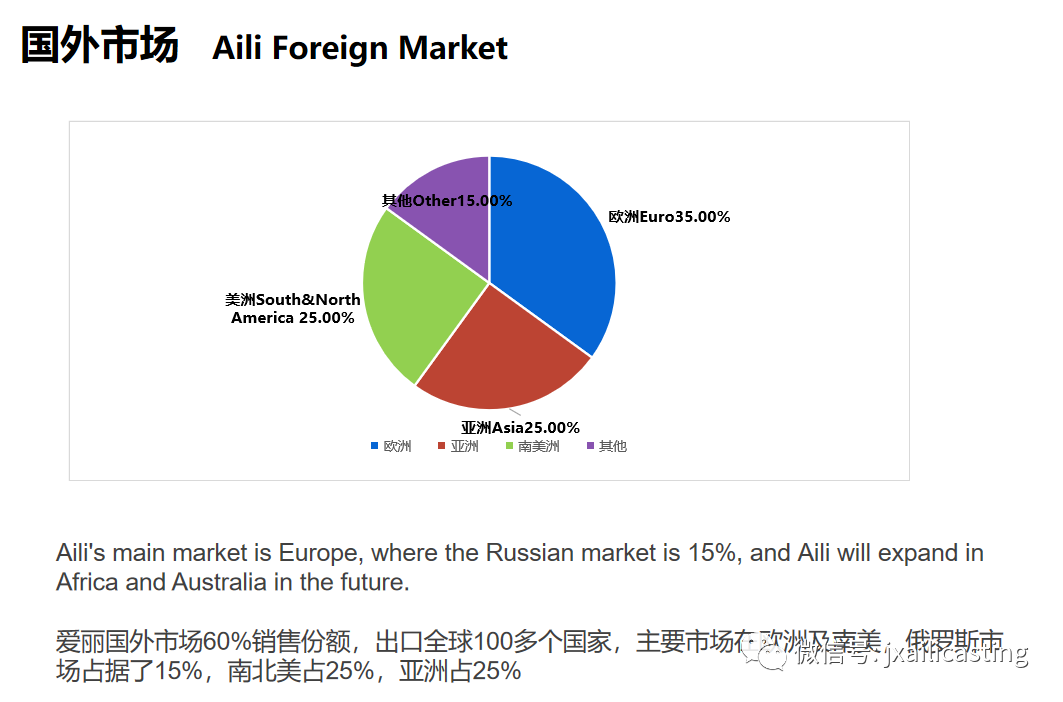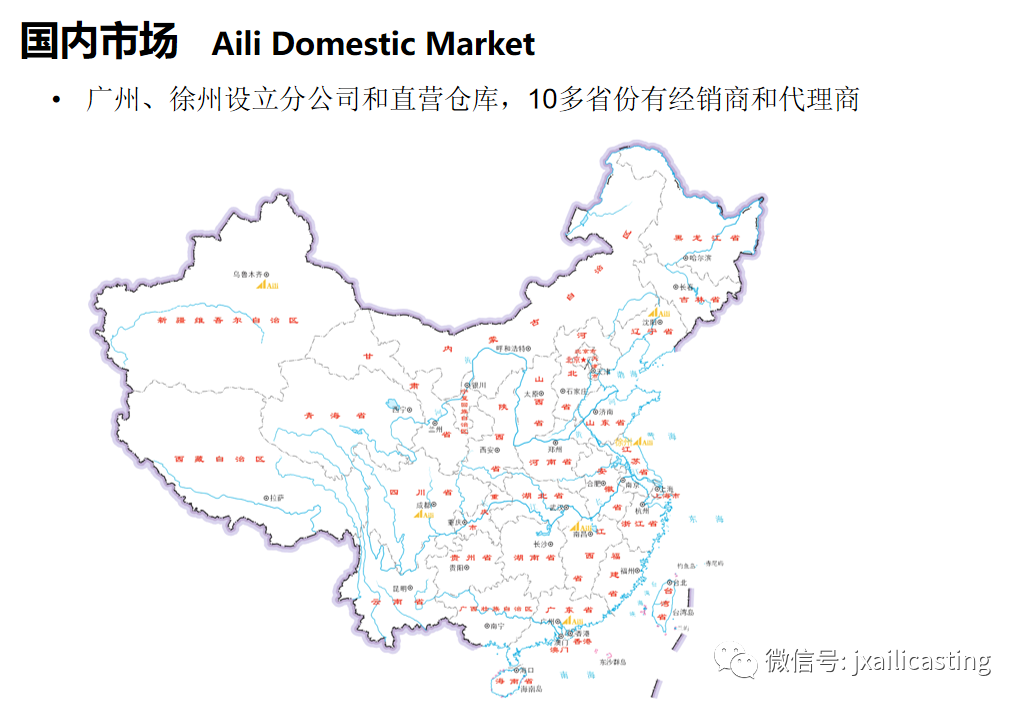 Jiangxi Aili New Material Technology Co.,Ltd
Add.:No.1 Century Ave.,  Industry Park ,Jing An,Yichun City,
Jiangxi Pr., China  (330600)
Tel:86-791-88536413/ 88536415/ 88536416/88536417
Fax:86-791-88536412
Email:export@ailicasting.com  sales@ailicasting.com
Mobile:86-13607050638  86-13677950055
http://www.ailicasting.com  www.ailicasting.cn
---
Post time: Dec-03-2020